Two days before Thanksgiving this year, I learned not to dodge the dentist. I had a tooth bothering me and I knew something had to be done quickly if I was to enjoy that feast of all feast holidays. That day I sat in my dentist's chair to tell Dr. Keith Dodge my sad tale. Knowing others sat in the waiting room and there was certainly limited time to do any significant work, I was a little more than anxious about my mouth getting fixed before the big turkey day at the in-laws.  I could envision the hostess saying, "John, you haven't eaten hardly anything." Then, I would have to recount some story about how I didn't properly plan my tooth pain around the holiday. As the hostess is a dental hygienist, I figured a lecture on flossing and regular checkups would follow.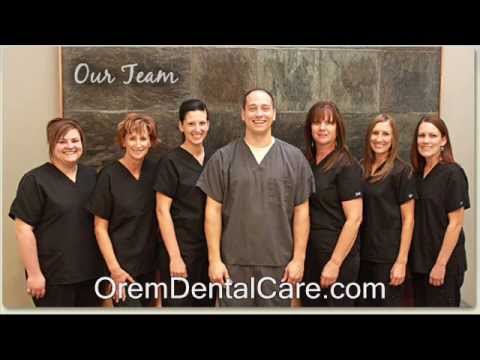 After poking around  a little and a couple of questions by the drilling expert, Dr. Dodge said I likely needed a crown, not on my head, but on a wisdom tooth. I pondered how wise I had been not have brushed better to have prevented this moment. The doc said a previous dentist's filling had come out and new decay was in progress.  At least it wasn't all my fault, thought I.  Doc Dodge said he would have to remove the decay and then announce the final verdict on the tooth.
Sure enough, I was to be crowned. That brought back memories of my last crown. You know the drill, pun intended. Put the mouth into a deep sleep, drill, temporary crown, wait two weeks hoping the temp tooth holds, return for the final fitting, drilling, gluing, polishing, and…I grew tired with the thought. But, I was in for a pleasant surprise!
When I asked the doc about the two week temporary tooth expectation, he pointed to a monitor off to my right. He said, "I can make your permanent crown right here, customized to your remaining tooth in 20 minutes. I just need to take a picture with this little camera and the CEREC system does a precise crown design. We tweak the design, and the computer sends the specifications to a milling machine in the other room. We'll have the permanent crown done in a hour. You don't have to come back in."
Not to miss another pun, my jaw dropped. I was so impressed, I took pictures! And, I'm never impressed at a place you pay to receive pain. Oh, what we do for our smile. Well, cutting to the chase, he did, they did, it did, and bam! I was eating soup and sandwich at Zuppa's restaurant an hour later–pain free.
Now, I call that a mini medical miracle for Thanksgiving. Oh, and my Thanksgiving hostess, the dental hygienist? She is impressed with the CEREC technology and I ate plenty. Only 20% of dentists can do "crowns while you wait." I'm thinking Dr. Keith Dodge at Orem Dental Care has an advantage over the competition. Whadayathink?
Share